Naar een onderdeel springen





Wat is een TikTok-verificatiebadge?

Als je je favoriete zanger, merk, beroemdheid of professioneel sportteam volgt op TikTok, heb je misschien een blauw vinkje naast hun gebruikersnaam zien staan. Dit is een verificatiesymbool of -badge die TikTok aanbiedt zodat je beter geïnformeerde keuzes kunt maken over de content die je bekijkt en de accounts die je volgt.

Een verificatiebadge betekent dat we hebben bevestigd dat het account toebehoort aan de persoon of het merk die het vertegenwoordigt. Dat betekent dat je zeker weet dat de geverifieerde accounts die je volgt precies zijn wie ze zeggen dat ze zijn, in plaats van een parodie- of fanaccounts. Als maker helpt de verificatiebadge om vertrouwen op te bouwen bij je volgers. Of je nu een individu, non-profit, instelling, bedrijf of officiële merkpagina bent, de geverifieerde badge voegt een belangrijke laag van duidelijkheid toe binnen de TikTok-community.





Bepalen of een account is geverifieerd op TikTok

Een verificatiebadge is het blauwe vinkje dat naast de gebruikersnaam van een TikTok-account wordt weergegeven in de zoekresultaten en in het profiel.

Als een account geen verificatiebadge heeft naast de gebruikersnaam, maar wel ergens anders in het profiel (zoals de bio), dan is het geen geverifieerd account. Alleen wij kunnen verificatiebadges toekennen aan TikTok-accounts en ze worden altijd op dezelfde plaats weergegeven.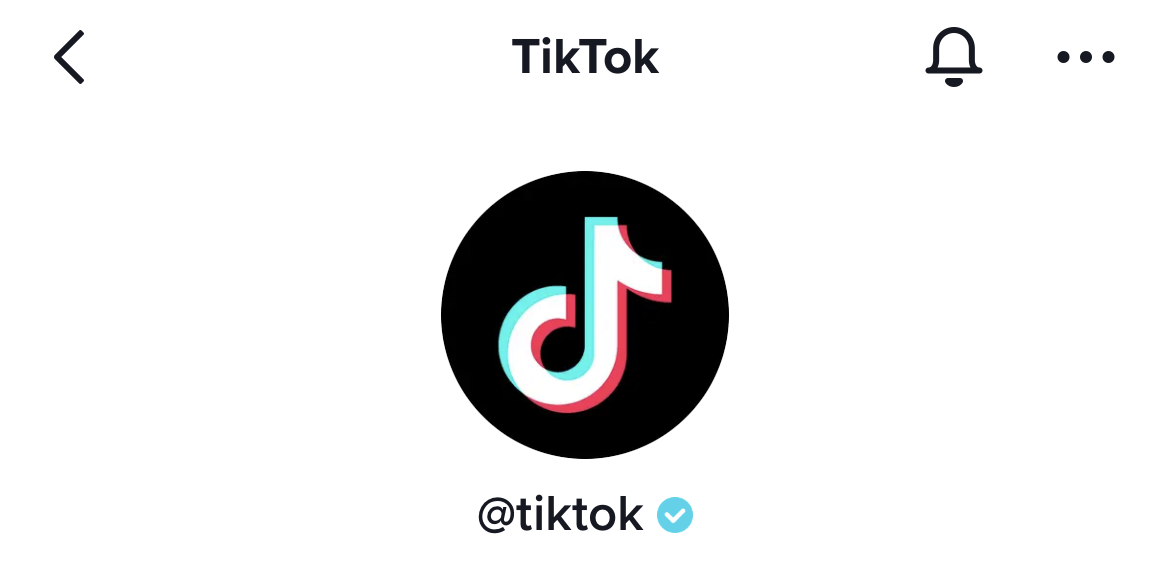 Geverifieerd worden op TikTok

We bekijken een aantal factoren voordat we een verificatiebadge toekennen, zoals of het account actief, authentiek, opmerkelijk en uniek is. We kijken niet naar het aantal volgers of likes op een account bij het toekennen van een verificatiebadge. Enkele accountvereisten waarnaar we kijken voor verificatie zijn:
• Actief: er moet de afgelopen 6 maanden zijn ingelogd op je account.
• Authentiek: je account vertegenwoordigt een echte persoon, bedrijf of entiteit. We accepteren één verificatie per bedrijf of persoon, behalve in unieke situaties, zoals taalspecifieke accounts of aanvullende merkaccounts en accounts van gelieerde ondernemingen. Als je een bedrijf, instelling of entiteit bent, moet het e-maildomein dat je opgeeft in je aanvraag je vertegenwoordigen, zoals @tiktok.com. Als je je e-maildomein niet kunt opgeven, kunnen we om aanvullende documentatie vragen. Je gebruikersnaam moet ook lijken op je bedrijfsnaam.
• Compleet: je account moet openbaar zijn en een compleet profiel hebben met een gebruikersnaam, bio, profielfoto en minimaal één video.
• Opmerkelijk: je moet worden genoemd in meerdere nieuwsbronnen. Persberichten en gesponsorde of betaalde media nemen we niet in aanmerking.
• Veilig: 2-stapsverificatie moet zijn ingeschakeld op je account met een geverifieerd e-mailadres. Dit zorgt ervoor dat het account de authentieke eigenaar behoudt en veilig is voor kwaadwillenden. Lees hoe je 2-stapsverificatie inschakelt.

Het is ook belangrijk dat alle accounts, inclusief geverifieerde, zich houden aan onze Co