Jump to a section





What is a TikTok verified badge?

If you follow your favorite singer, brand, celebrity, or professional sports team on TikTok, you may have noticed a blue check mark displayed next to their username. This is a verified symbol or badge that TikTok provides to help you make informed choices about the content you watch or accounts you follow.

A verified badge means that we've confirmed the account belongs to the person or brand it represents. This means you can be sure to know that the verified accounts you're following are exactly who they say they are, rather than a parody or fan account. As a creator, the verified badge helps build trust with your followers. Whether you're an individual, nonprofit, institution, business, or official brand page, the verified badge adds an important layer of clarity within the TikTok community.





How to tell if an account is verified on TikTok

A verified badge is the blue check mark symbol that appears next to a TikTok account's username in search results and on the profile.

If an account doesn't have the verified badge next to the username but displays it somewhere else on the profile (such as the bio), it's not a verified account. Only we can apply verified badges on TikTok accounts and it'll always appear in the same place.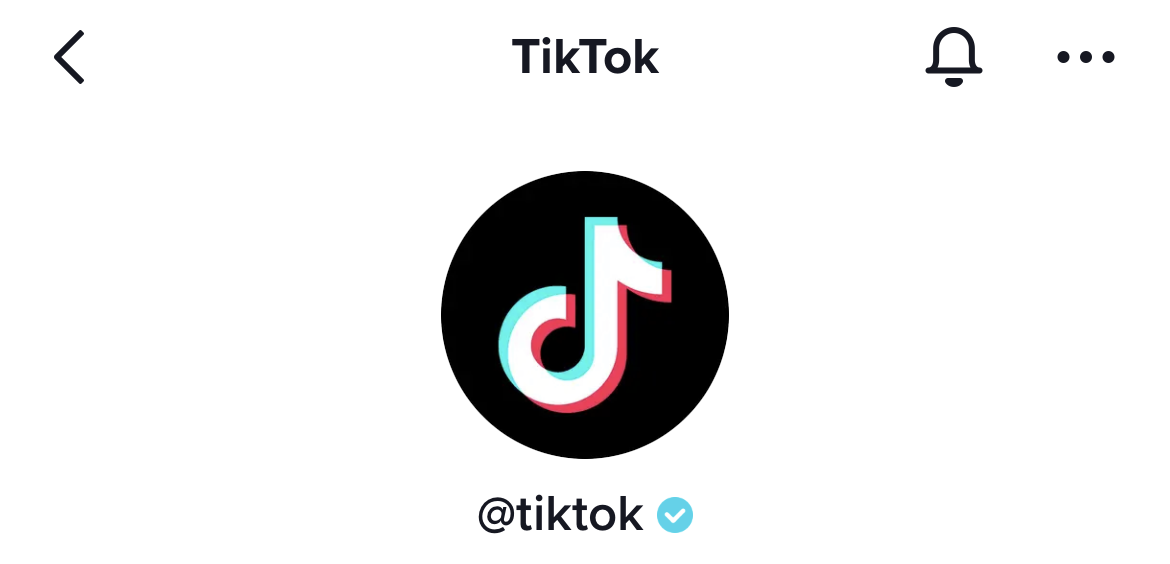 How to get verified on TikTok

We consider a number of factors before granting a verified badge, such as whether the account is active, authentic, notable, and unique. We don't consider the number of followers or likes on an account when granting a verified badge.

Some account requirements we consider for verification include:
• Active: Your account must have logged in within the past 6 months.
• Authentic: Your account represents a real person, business, or entity. We accept one verification per business or person except in unique situations, such as language-specific accounts or other branded and affiliated accounts. If you're a business, institution, or entity, the email domain you provide in your application must represent you, such as @tiktok.com. If you can't provide your email domain, we may request additional documentation. Your username should also be similar to your business name.
• Complete: Your account must be public and have a completed profile with a username, bio, profile photo, and at least one video.
• Notable: You must be featured in multiple news sources. We don't consider press releases and sponsored or paid media.
• Secure: Your account must have 2-step verification with a verified email. This ensures the account retains the authentic owner and is safe from bad actors. Learn how to turn on 2-step verification.

It's also important that all accounts, including verified ones, adhere to our Community Guidelines and Terms of Service in order to ensure that TikTok remains a safe, fun platform for everyone, and verified accounts are no exception to that. A verified badge does not imply an endorsement by TikTok and we reserve the right to deny or revoke verification on accounts that meet any of the above criteria through artificial or inauthentic activity.





How to request verification on TikTok

To request verification of your TikTok account:
1. In the TikTok app, tap Profile at the bottom.
2. Tap the Menu ☰ button at the top.
3. Tap Settings and privacy.
4. Tap Account, then tap Verification.
༚ If you're registered as a Business Account, then you can only apply for Business Verification.
༚ If you're registered as a Personal Account, then you can apply for Personal and Institutional Verifications.
5. Follow the steps in the app to submit a verification request.

To support your application, you must provide credible written media coverage, such as news articles. If we don't grant you a verification badge after reviewing your application, you can submit another request. Keep in mind that we only review subsequent verification requests after 30 days.

Note: This feature is currently not available everywhere. If you can't submit a verification request in the app, you can submit a request through our online form.





Can you request to remove your verification?

It's not currently possible to request to remove your verified badge. However, we'll remove your verified badge if you change your username.





How much does it cost to get verified?

We don't charge you to get verified. Any entity claiming to sell TikTok verifications is not affiliated with us.





Why might TikTok remove verification?

We may remove a verified badge at any time and without notice.

Some removal reasons may include:
• The account transferred to another owner making verification inauthentic.
• The username changed so the account owner needs to re-apply for verification.
• The account type changed between business, personal, or institution.
• The account repeatedly or severely violated our Community Guidelines and Terms of Service.


Was this helpful?